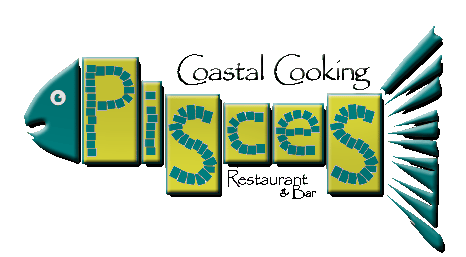 Pisces Restaurant opened in April of 2001 with 40 seats in the dining room, and the full menu available at the cozy 5-seat bar, making it both a charming and intimate little restaurant with a bright and cheery feel. Named for a favorite restaurant in Barbados, this Chef owned restaurant features Coastal Cooking, with flavors and styles gathered from around the world. Our motto is "all good things come from the coast".
Beginning with homemade rosemary foccacia and a garlicky white bean spread, everything at Pisces is made fresh and to order, including all of our desserts. Although the menu features mostly seafood, there is also an excellent selection of non-seafood items available, including steak, chicken and vegetarian fare as well. Our menu changes frequently to take advantage of the freshest local and seasonal ingredients, yet many signature items remain.
Our tables are set with crisp white linens, deep blue pepper mills, simple votives, and hand rolled parchment menus.
The walls are adorned with paintings by local artists. Our artwork is selected by our own curator, Sally Munson, formerly of
The Munson Gallery in Chatham.
Pisces, with a full liquor license, offers signature cocktails such as the Pisces Cosmo, expertly made Martinis, and a carefully selected wine list, with over 20 wines available by the glass. We also feature an exciting and different Wine Series each month.
Pisces is open from the end of April through Columbus Day weekend. The restaurant is closed on Mondays throughout the season. Please check the scrolling banner on our website or call the restaurant at 508-432-4600 to see what nights we are open during the Spring and Fall.
Reservations are highly recommended. Pisces does not offer a children's menu and does not provide high chairs or booster seats. Our restaurant is handicapped accessible although the bathroom accessibility is limited. We accept Visa, MasterCard and Discover. Gift Certificates are always available in any denomination. Attire is Cape-Cod-Casual, and complimentary valet parking is available.
**************************************************************************
Our Friends ..
The Chatham Cheese Company
The Chatham Cheese Company, founded in 2008. Owner Heather Cantin
personally sources and selects all of the cheeses for our signature Pisces Cheese Board.
Our selection changes at least monthly, sometimes more often, due to the seasonality and rarity of the cheeses.
Heather and Chef Connors collaborate on the always unique accompaniments and wine pairings.
The Chatham Cheese Company is located at 902 Main Street, just outside of downtown Chatham.
Check out their website for special events, wine tastings and hours of operation.
***
Chatham Bars Inn
The historic Main Inn sits gracefully
atop a bluff overlooking
Pleasant Bay and the open Atlantic Ocean,
***
The Chatham Squire
Chatham's family restaurant with a multi-cultural menu
and an entertaining cast that includes
both the crew and the customers,
***
The Carriage House Inn
A romantic bed and breakfast in Chatham,
The Carriage House Inn offers spacious grounds,
beautifully appointed guestrooms and gracious hospitality
407 Old Harbor Road
1-800-355-8868
***
The Captain's House Inn
The Old Manse has been home to generations of
legendary seafarers. The Inn offers ten deluxe, individually decorated
and preserved rooms each with private bath.
***
Wellfeet Waters
Thier company is dedicated to bringing the best experiences in life onto
fabrics to make you smile and remember life is shortcatch the wave!
They have great fabrics and made the wonderful
bench cushions for Pisces !!!
***
We are proudly serving beanstock coffee this year!
*********************************************
Our Email
( Please, No Reservations )
***************************************
Pisces Restaurant & Bar